Story of change – how to break the taboo around sexuality in Bolivia
06.10.2021
Comprehensive sexual education is needed to solve some of the most urgent problems in Bolivia. To push for this change, the Bolivian Campaign for the Right to Education must first try to break taboos around sex – luckily, they may have found a way to do so.
Lisbeth Espinoza Paredes is a secondary school student from El Alto, near the Bolivian capital La Paz. A couple of months ago she received an invitation from one her teachers to attend a series of workshops arranged by the Bolivian Campaign for the Right to Education (CBDE).
Not knowing exactly what it was about but always interested in building her capacity and agency she attended the first session – and was shocked. The workshop was about sexuality, sex, gender norms and violence against women. Topics that Lisbeth Espinoza, and most of her peers as well as generations before them, had been brought up to never discuss.
"Even with my mom I have not been able to speak about sexuality or about the physical changes, I experienced as a teenager. She would misinterpret my questions thinking I was planning to have sex with someone and scold me. So even though I was shocked and very shy, I really wanted to stay at the workshop and learn all these new things," says Lisbeth Espinoza Paredes.
The taboo is a barrier
According to Miguel Marca Barrientos, executive director for CBDE, there is a severe lack of knowledge in Bolivia when it comes to everything related to the human body, sexuality, and relationship between genders. A lack of knowledge and a taboo that is haltering the ability to combat widespread problems around teenage-pregnancies, domestic violence, violation of women's rights and poor sexual health in Bolivia.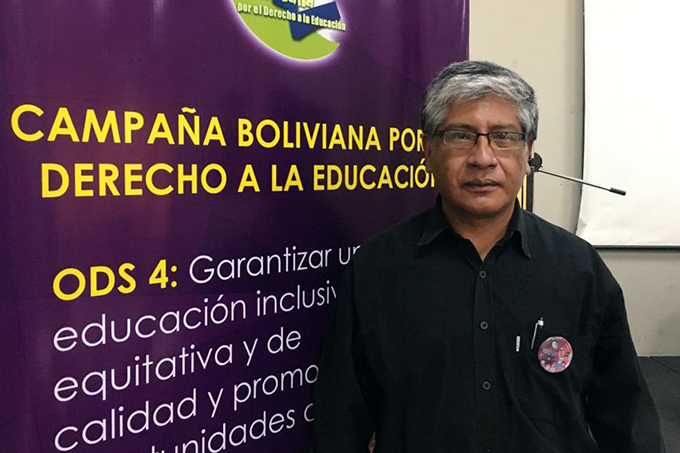 Miguel Angel Marca Barrientos. Photo - BCDE
"Youth need to be able to ask their parents about these things. Parents need to know how to answer and guide them. And communities need to be open about the problems that are there. Right now, this is not happening because it is considered bad behavior even to take interest in issues of this kind," says Miguel Marca Barrientos.
With support from Education Out Loud, the coalition has gathered civil society organizations, movements and individuals that are working through education to protect women's rights and prevent violence and discrimination.
CBDE have facilitated spaces "to break fear" and in a series of workshops with students, teachers, parents, community representatives and the media, started raising awareness among participants on the negative consequences of not addressing these issues. In particular, the workshops have been passing a lot of knowledge about sexuality and reproductive rights, violence prevention and gender equality, and advising participants on how they can convey this knowledge and advocate for change.
Parents and teachers as agents of change
"I have a son who is 15 and a daughter who is 10. I don't want them to be frightened to ask me about things, but they had many questions that I did not know how to answer and that made me uncomfortable. At the workshop I have learned about things that I would never have dared asked about otherwise and I have also become confident in discussing it with others," says Maria Eugenia Gonzales one of the participants from El Alto.
Starting with her own kids and immediate network she wishes to share what she has learned and hopes to thereby with time decrease the number of non-desired pregnancies and the level of violence against women in her neighborhood.
The same ambition is shared by teacher Zaida Aramayo Berrios. She teaches in a secondary school in the southern city of Tarija and sees among her students the crucial need for sexual education. She has previously been looking for ways to introduce the subject to students and their parents but has found it to be difficult.
"Now I have gained better knowledge on the issues and tools to promote it. With this support, I have been able to gather parents to discuss some of these things and more importantly I have engaged a handful of the students in the promotion of sexual education in school and in the wider community," says Zaida Aramayo Berrios.
Kids need to learn about sexuality
Zaida and Maria are just two of more than 200 agents of change that have until now been hatched from the project. The goal of CBDE is to educate even more and through them spread the ability and willingness to discuss other sensitive issues and cause civil society to push for an integration of these topics into the education, formal and alternative, that is offered to children and youth.
"These initial experiences show us, that our theory of change holds true and that capacity building and engagement of local community is a desirable way to the change we strive for – quality, integral education for all," states Miguel Marca from CBDE.
With further support from Education Out Loud, the coalition will facilitate similar spaces for dialogue in more cities and communities throughout Bolivia and gather the most engaged participants to back a national campaign and political dialogue for the implementation of comprehensive sexual education in Bolivia.
One of them is Lisbeth. She wants to help others realize that these issues should not be something to be afraid of. "I would like to facilitate the space for others to talk openly about sexuality and violence against women and my ambition is to become a leader in changing the perception about sexuality and violence against women," Lisbeth Espinoza Paredes says.
FACTS
The Bolivian Campaign for the Right to Education (CBDE) work in defense of the right to education and contributes to of the right to a quality, equitable, inclusive, intra/intercultural, and plurilingual education.
CBDE has an integral approach to education - the coalition insists that education should promote equality, inclusion and interculturality; bring together worldviews under equal conditions, gender equity, conservation and care of the environment; eliminate all forms of discrimination; promote justice; and construct a culture of peace and non-violent conflict resolution.
The implementation of comprehensive sexual education in formal and alternative education is urgent to obtain these objectives and the key to change is raising awareness and mobilizing civil society.
At this initial stage, CBDE has facilitated workshops and dialogue in El Alto and Tarija, engaging a total of 200 students, 60 parents, 60 local community influencers and stakeholders as well as local media.
Read more: cbde.org.bo