Civil society's role in education under displacement: Fostering a global discussion
24.09.2021
During 2020 the number of displaced people worldwide set new records, highlighting the need for immediate action to secure education in displacement. Civil society plays a key role in addressing the devastating impacts of displacement on children's continued learning.
Global Partnership for Education's strategic plan for 2021-2025 specifically prioritizes working with education under displacement to address the severe increase in out-of-school children because of displacement.
For the ninth year in a row, the number of forcibly displaced people set new records. In fact, 1 in every 95 people worldwide is now forcibly displaced as a result of conflict, violence and persecution, and rapidly increasing numbers of people experience displacement as a result of climate change.
Children of displaced families face serious obstacles in their education, such as learning loss, discrimination in school, language barriers, and poverty. Refugee and displaced children are some of the most likely to drop out of school.
"The consequences of displacement on children's education are wide-reaching and enormous. As conflicts and negative impacts of climate change increase, working to ensure education in vulnerable areas affected by displacement is a key concern for Education Out Loud and many of our partners" says Lars Udsholt, Global Program Manager of Education Out Loud.
In fact, 41% of the many national education coalitions supported by Education Out Loud work with member organizations representing internally displaced persons and refugees.
In addition, the intersection between displacement and other forms of vulnerability and marginalization is a key issue for two of the transnational civil society alliances supported by Education Out Loud.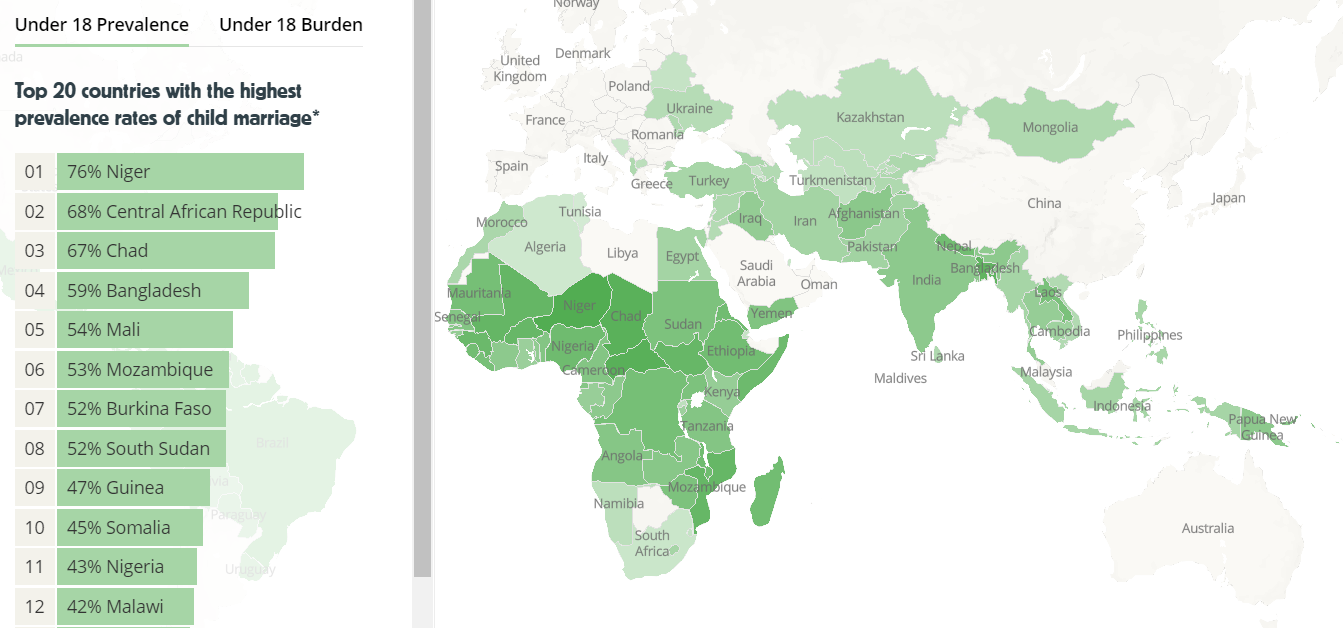 Girls Not Brides' interactive atlas has information on child marriage prevalence, drivers, legal frameworks and organizations working to end the practice around the world.
Learn more from Girls Not Brides' recent session on Child marriage in humanitarian settings: Findings from girl-centred and girl-led research.
The multi-dimensional effects of displacement
In Burkina Faso and Niger, conflicts raiding the Sahel region and climate change-induced catastrophes have increased.
Girls Not Brides, is one of the civil society alliances addressing the risks and vulnerabilities faced by displaced women and children. In their Education Out Loud funded project they are working on the intersection between education and child marriage in countries in Francophone West Africa. In fact, an increasing body of research shows that adolescent girls are especially vulnerable to child marriage in humanitarian crises, which often puts an abrupt stop to their education.
As displacement tend to accelerate poverty and create extreme insecurity, child marriage can be seen as a way out of poverty or to protect girls from violence for many families.
"Crises exacerbate factors that drive child marriage, including insecurity and lack of access to services such as education. As education can help to prevent conflicts, its disruption can have long-term impacts on communities; it can lead to increased violence directed at children and fear of accessing existing education services" explains Girls Not Brides in their brief on child marriage in humanitarian contexts.
The impact of displacement on children's education and lives are, however, not only gendered but highly multi-dimensional and often inter-generational. Civil society plays a key role in understanding the multi-dimensional effects of displacement on children and their learning. In fact, research shows that civil society often fills critical implementation gaps, raising awareness, and pushing for policy changes and actions by decisionmakers.
Civil society can provide key perspectives on how displacement and learning loss affect different groups differently, based on gender or ethnic identity.
Enabling civil society organizations to use this expertise and unique local knowledge in pushing policymakers to make commitments and take immediate action to education for all children is key – especially in the face of crisis.
Key messages from Street Child
Learning must be flexible and work around individual circumstances. We should bring lessons from working on displacement and education into other areas of working with education and challenge the rigidity of education systems.
The ability to target instructional approaches to an individual child's needs must become mainstream – it should be something that education systems are robust and resilient enough to do in general. This will make displacement less of a challenge to education systems and allow the systems to be more responsive to displacement.
Using assessment to address displacement
In South Asia, the South Asian Assessment Alliance, funded by Education Out Loud, works on education in emergencies – specifically in Afghanistan and Myanmar, two of the countries most affected by displacement in the world.
In this region, the impact of conflict and climate change-induced crises is devastating, and tools to assess learning loss and education levels of displaced children are often lacking. The South Asian Assessment Alliance works to address this gap by advocating for common assessments across the region.
Learning assessments play a particularly critical role in understanding the degree of learning loss for children, and they provide evidence to push for accountability.
"Creating common assessment tools for the situation of education in displacement provides us an opportunity. We can use the assessment and data on learning levels to address policymakers and push them to act" says Ramya Madhavan, Global Head of Education with Street Child.
However, learning assessment is not a neutral exercise. How assessments are interpreted has a huge impact on which state and non-state actors can be held accountable and how. Creating a common voice and advocacy across country-borders is of crucial importance in ensuring this accountability.
The crisis of our time: Climate change
Climate change-induced displacement is becoming the defining crisis of our time. Currently, over 20 million people are displaced each year as a result of extreme weather events – and with the current development, this number will increase rapidly each year. The poorest and most marginalized people in the world are the first to be forced into displacement because of climate change despite the highest greenhouse gas emissions happening in the global North. Crises tend to put an unpleasant spotlight on inequalities.
"The mechanisms causing displacement are often in our own backyards. We all need to acknowledge our role and responsibility. Transnationalism is key in this moment as the needed change extends beyond the individual countries we work in" says Ramya Madhavan.
By enabling and supporting civil society, we can build transnational thinking and begin to understand the complex causes of displacement. Civil society is key in opening a global conversation on how to create mass-scale change.
It is exactly this global conversation that Girls Not Brides and the South Asian Assessment Alliance work to create, by pushing for transnational policy debate and promoting more responsive and socially accountable conditions for education in displacement – nationally, regionally, and transnationally.
Working transnationally and joining our voices enable us to push for a fairer world where no child is displaced because of conflict, climate change, or war – and where children's right to education, security and a future is protected if they are.
Transnational advocacy and Education Out Loud
Education Out Loud supports alliances of civil society organisations working transnationally to push for cooperation and change across country-borders and regions.
By building transnational thinking, we can address the multi-dimensional causes of displacement, and create a common voice to push for large-scale change.