"We are now in a position where the policy makers are listening"
15.04.2023
As the National Education Coalition in Guinea has grown stronger and further developed its advocacy capacity, policy makers are now more prone to be receptive to the coalition's views and insights.
When Mrs. Fatoumata Dabo in 2004 had finalized her studies in Ghana and came back to her homeland Guinea, it was with the intention of using her diploma in computer science to find a job within the field of IT. While waiting for the opportunity to arise she worked with international NGO's, translating for them on visits to the vast parts of the country where illiteracy is high and knowledge of languages beyond the local one is rare.
"I would go with them to village after village and meet all these people who were struggling. I could see how many of their problems were due to poor education. And when we asked them their needs, we would hear them say, that they really needed quality education. That made me change my plans. Instead of working with IT, I founded an CSO combatting illiteracy among women and elders. And that is how it started," explains Fatoumata Dabo.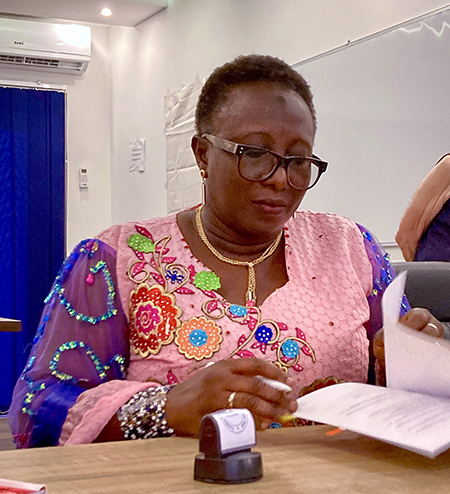 Used to be a lot of mistrust
She tells her story on a phoneline from the Guinean capital Conakry. More specific, from her car, parked somewhere on the road between the seat of the "Permanent Technical Secretariat and Steering Committee for the national Education Program in Guinea" – and the offices of "The National Coalition of Guinea for Education for All" where she serves as president.
"It is still somewhat new to us, being invited to meetings with politicians and in the ministries," she says.
"For years there was a mistrust from those in power towards civil society who was mainly seen as someone to criticize and oppose. Even though I have been working with education advocacy for many years and been leading the national education coalition since 2011, it is only recent I feel a change in the way we are perceived and the access we are given," says Fatoumata Dabo.
Now civil society has more to offer
According to her, the change is mainly happening due to two things. One – the new government realizing the constraints to achieve increased access and quality of education. Two – the GPE and subsequently EOL support to the alliance that has allowed it to strengthen the organization and internal cooperation and – among other things – secured a valuable gathering and sharing of information that is a crucial foundation for advocacy and a currency that policy makers are willing to trade for influence.
"We are now in a position where we can deliver valuable knowledge and input about the situation on ground in all parts of the country and add analysis and propose solutions that policy makers need to move forward. My experience is that we now have access to important discussions and are listened to because we also bring something to the table," says Fatoumata Dabo.
Of course, the internal work of expanding and strengthening the alliance and their ability to network, and work with advocacy has also contributed a lot to the new situation of increased access and influence which they hope will help set the country on a positive course regarding education. Cause something really needs to happen.
As one of the poorest countries in the world, Guinea struggles with primary school enrollment and inferior education quality. The average classroom hosts 80 children with only one teacher. The number of youths aged 15-24 who have no formal education totals 49 percent. The proportion of girls enrolled in primary school has stagnated around 45 percent. In 2021 the adult literacy rate was a mere 45,33 percent.
What the coalition work to change
As of now, The National Coalition of Guinea for Education for All has three main objectives.
Increase the national budget for education. The global recommendation is to allocate 25 percent of the budget to education. At the latest UN Summit on Education, the Guinea Government proposed an increase to 16 percent in 2025 raising to 20 percent in 2030.
Raise the awareness of the need to work with gender and inclusion and increase these aspects in the implementation of the Guinea 10-year education program.
Push for the realization of the previously developed national policy framework for teachers. A framework that will ensure better education and training and solve many of the numerous problems now facing teachers and lowering their motivation, competences, and ability to carry out their work in the best way possible.
"An internally we are still working to give all our members and civil society in general a better understanding of the framework for developing and implementing educational policies. We are working to get them mobilized and create opportunities for them to work together," says Fatoumata Dabo.
Part of the Education Out Loud- project is also to develop and test some concrete advocacy actions in favor of inclusive, equitable and quality education. And not least to develop and test methods to increase the retention and success of girls in schools – focused in 10 pilot schools in different parts of Guinea.
"There is much work ahead of us, but I am starting to think that we can achieve it – that we can put education in the center of all and through that realize all the other ambitions we have for our society in regard to health, climate, equality, security and development," she says.
The National Coalition of Guinea for Education for All (CNG/EPT)
 
The National Coalition of Guinea for Education for All (CNG/EPT) is an alliance of more than 30 civil society organizations contributing to the promotion of an inclusive, transparent, and efficient educational governance responding to the educational problems of the country. Specific objectives:
To strengthen the capacities of CSOs to better understand the national and international educational environment for a more active participation by December 2023.
To support the implementation of the governmental 10-year education program through the promotion of inclusive, equitable and quality education.