Increasing the role and influence of women in education in Somalia and Sudan
21.12.2022
In Sudan and Somalia, women have traditionally been underprioritized in education. This is now changing with the Arab Campaign for Education for All increasing the role and influence of women in both countries. 
Somali women are taking charge  
Access to education is a major challenge in Somalia, particularly for girls and young women. Only 25 percent of primary school-age girls attend formal schools. An additional 65 percent of young women ages 20 to 24 have not attended school at all or only have some primary education. 
Even in the capital, Mogadishu, women have low levels of education, which is limiting their chances of participating in political leadership.
After decades of war, which left Somalia languishing without a central government, Somali women are now taking charge of the country's destiny. Through their initiatives—small and big—as professionals, businesswomen, politicians or activists, they are touching and positively changing the lives of a population that has faced conflict, poverty and drought for years.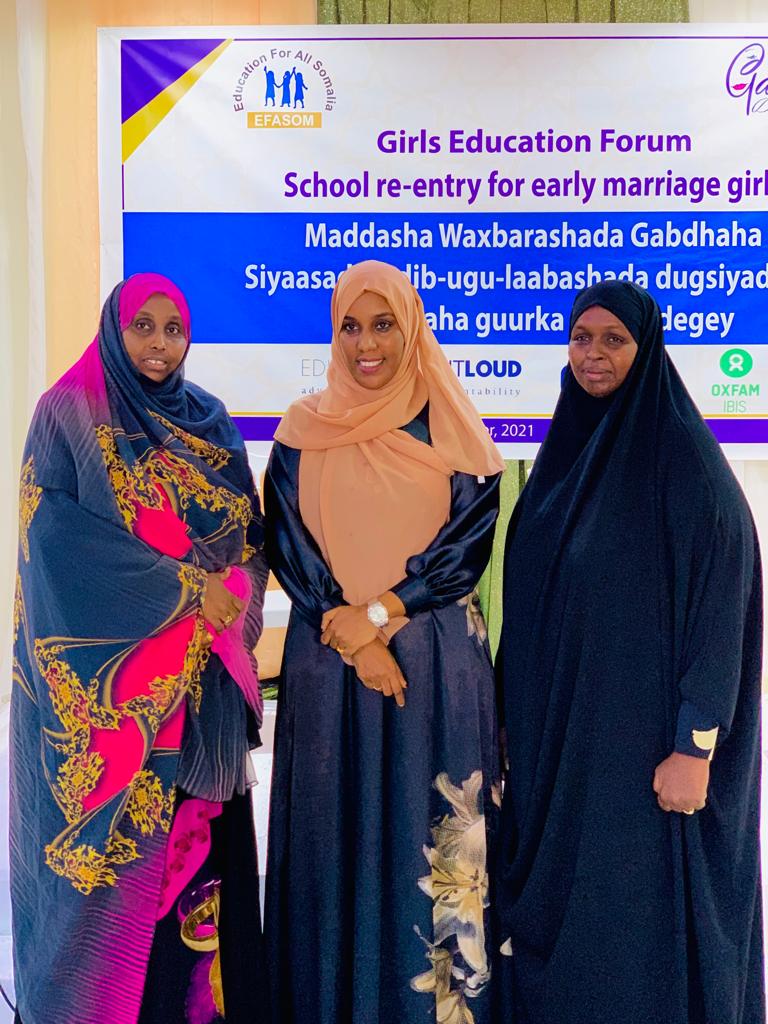 Girls ahead of boys in Sudan enrollment 
In Sudan, the number of females enrolled in education has been increasing since 2005. Currently, female outnumber male students. This has been accomplished by working on strategies that help girls enroll in education, such as raising awareness about the importance of girls' education through initiatives and advocacy programs, trying to improve school environments to become more appropriate for girls, and running clubs for girls on life skills.
Increasing the participation of women in education
The Arab Campaign for Education for All is an independent, nonprofit coalition consisting of networks, coalitions, nongovernmental organizations, community-based organizations, teachers unions, associations and other sectors that are interested in education in the Arab countries. 
In Somalia and Sudan, the coalition has sought to increase the participation of women in the coalition's activities and education policy processes by increasing the local coalition's activity, improving its effectiveness, increasing the number of advocacy campaigns, and qualifying coalition staff to play their role, in addition to exchanging experiences in meetings and the women's forum.
It has also pushed more women activists to join the girls' education campaign, resulting in a general change of attitude toward equity and equality in education. After the Education Out Loud program intervention, women representatives began joining the effort to advocate equality in education.
Women are now active participants in the activities of the coalition and have become an effective part of the process of planning, organizing and implementing the coalition's activities.
Major areas of influence: 
Promoting social and economic empowerment of women through cross-cutting policies and programs 
Mainstreaming gender concerns
Creating awareness about women's rights 
Legislative support for enabling women to realize their human rights and develop their full potential
Supporting women's education and increasing their enrollment in education
Background: Challenges for women in Somalia and Sudan
In Somalia, adolescent girls and young women often face many security, economic and social barriers to accessing education. Families often may not prioritize or have the ability to pay for girls and young women to attend school. Young women are often expected to contribute to household work from a young age, face early marriage or other types of gender-based violence and may face restrictions as to when and where they can travel.
In Sudan, the women's movement faces four major challenges:
1. A limited source of funding
2. Traditions that believe that male education is more important than female education
3. Poverty in the school environment and inadequate school facilities for females, especially adolescent girls, such as an insufficient number of bathrooms and a lack of privacy
4. The large number of areas in which the coalition works, which leads to its inability to support all the schools in Sudan
What have we achieved? 
With the help of the Arab Campaign for Education for All, the Sudanese coalition is working to overcome these challenges through advocacy campaigns and the use of educational media to spread awareness and change education policies to become more supportive of females, support and improve school environments, and carry out many activities targeting girls, such as life skills clubs, school theater and activating school grants.
In Somalia, the coalition is helping Somali women activists overcome their many challenges by engaging them in education forums of virtual platforms and is organizing women's education forums. The Somali experience proves that when women build foundational skills, they can actively participate in making decisions in their households and communities; they are able to advocate for themselves, network with other women and learn how to invest in their own livelihoods.